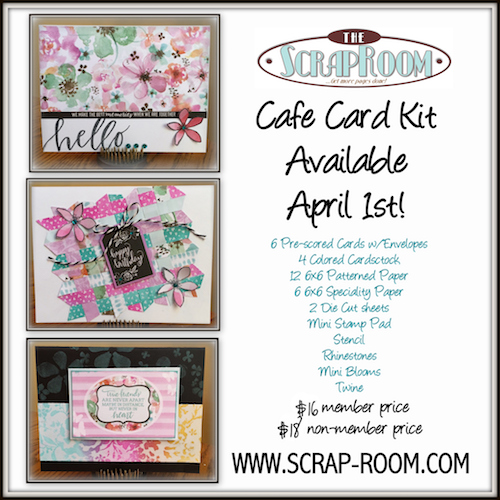 APRIL 2017 CAFE CARD KIT - PRE ORDER MEMBERSHIP ONLY AT THIS TIME; $16.00

NEW CARD KIT MEMBERSHIP STARTS APRIL 1ST! SIGN UP NOW TO REVERSE YOUR KIT! PRE-SIGN UP ONLY AT THIS TIME.

There will only be a number of memberships available at this time. Once we fill up the memberships we will be doing a very NICE giveaway to one lucky card kit member!

Each kit will consist of at least (4) Cardstock papers, (12) 6x6 papers, (6) pre-scored cards with envelopes, coordinating embellishments and other items (ink, etc.) to create at least 8+ cards! Each Kit will be different and contain the latest and greatest product. Lastly, The Card Kit will come with Idea cards!!! :)

CARD KIT WILL BE EVERY OTHER MONTH AT $16.00 MEMBERSHIP PRICE AND $18.00 NON-MEMBERSHIP PRICE.